Biography
Short about me
My story
My diary
Presentation of the liveband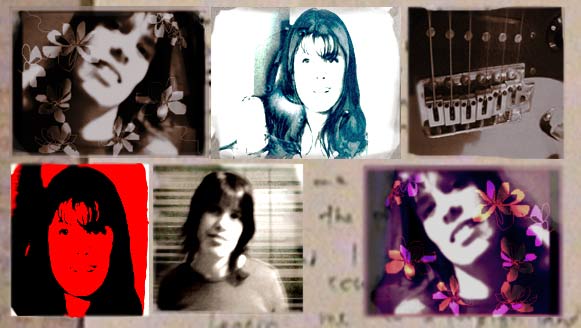 Short about me
Name: Emma
Instruments: guitar, synth, bass and flute
Favourite artists: Eskobar, Travis, Keane, A camp, Cardigans, Cranberries, Tracy Chapman, K´s choice, Staind, Nirvana, Marit Bergman, Frida Snell and many more!
Favourite concert: Eskobar and Gyllene Tider
Latest bought CD: Marit Bergman - Baby, dry your eye, Nirvana - 15 classic songs
Best CD: Eskobar - A thousand last chances
First bought CD: Mariah Carey
Tea or coffe: Tea
Favourite movie: "Love actually" and "Bridget Jones´s Diary" are one of my favourites.
I also like swedish films a lot and all the movies with Julia Roberts.
Latest read book: I´ve read a lot of tragical selfbiografies latley, like "A child called it" by Dave Pelzer and "Forget you had a daughter" by Sandra Gergory. Very good and thoughtful books, I couldn´t put them aside..
Favourite color: yellow
Favourite clothes: I like to wear jeans and different skirts
What motivated you to get started in music? I´ve always liked music, it´s just something I can´t live without! Sometimes it´s hard to express yourself with words but it´s very different with the music.
It´s such an easy way to express your feelings.
When did you start with the music? I was about 6 years old when I started to play piano at home.
When I was nine I begun to play flute in school and I also played in an orchestra. I was about 14 years old when I started to make classical pianosongs, I also wrote a lot of poems, but it wasn´t until I was 18 and bought my first guitar I begun to combinate music with lyrics. I was so inspired and I learned fast how to record a song in a studio. The first recordings took place in my boyfriend´s studio "Varion Studio" year 2000. Except my own project I´ve been singing choirs in a band and I´ve also been producing some music for radio-advertising.
Favourite season: Summer! =) I wish that Sweden could be a warmer land...
Favorite TV Program: RoomService and other furnishing programmes..
Favourite Animal: Dogs =) I really would like to have dogs, but I´ll have to wait ´til I live in a house. When I was younger we had a big black dog with beuatiful sad eyes, she was so nice and I really miss her..
Except the music, what do you like to do: I´m interested in different kind of arts. Especially I´m interested in photography and graphic design. I like to spend time with my family, with my boyfriend and my friends. I like to be out in the nature and I like animals a lot.

My story
Looking out from my window I see the streets outside, looks just the same as yesterday. I take a walk under the trees in the park.From distance I can hear some people laughing and talking, some people are arguing, someone is crying and other people are jut walking around quietly. Life rushes on, everybody has to buy bread for tommorows breakfast and the clock strikes twelwe in everybodys house at the same time. Everybody has to sleep, some sleeps at nights, some people fall asleep on the bus, some people work all night because they want to finish something and maybe they fall asleep at work or in school instead. Every single person has his own story to tell, some stories are good, some are sad, some stories are terrible and some are lovley. Some people think they can read other persons lifes like an open book, but in the end they only knew the color of their hairs. Some people really can read other persons eyes. Some people are so worried about what other people think that they don´t have time to think about the things that really matters. I keep walking through the town and I´m thinking that people are very different but so the same. Everybody needs someone to care about them, someone to talk to and someone to take care about. A nice word can save the day, or in some cases even a life.
I´ve like many other people been through a lot of pain in my life but I´ve also seen many wonderful things. I´ve got so many amazing and wonderful persons around me that makes this life worth living. All the heavy things that I´ve been thorugh has after all made me stronger. I believe there´s a God watching over us, making us stronger, and carrying us when we´re about to fall. Some moments in life are so special that I would like to save them in a box and not be able to loose them ever. The closest way to keep them for me is to sit all alone with a guitar and a paper to write a song about them. Even if I often think negativly about myself, I´m a very hopeful and dreaming person that loves to live, to take care of those I love and to do meaningful things like eating ice-cream, jumpin in the bed with my little 2yrs old brother and to sing loud in the car while driving. My songs are a way to describe my feelings and many times also to try to describe other persons feelings. The music that I create is buildt by feelings and if I´ve described a little piece of a persons life in a truth and touching way, then I´m satisfied with the music.
I take a look at my shoes. Sometimes one step to the left or to the right can change your whole life. Sometimes all depends on the courage, but often you don´t have much to loose if you try. If you don´t, you´ll never know.

My diary
05.11.10 It was a long time since I wrote something here.
I've been recording a lot of new songs. Today I uploaded one of them. Hope you like it! :-)
05.03.08 Today I started the recording of my new song.
Right now there's just electric guitar and song. Totally seperated from that: Me and some of my friends have started to make a movie. It's a lot of planning and enviroments to think about, but it's fun!
05.02.23 I´m now working with an other homepage for my graphical works.
Graphic design is one of my biggest interests and the projects can keep me busy for hours.
It´s easy to get stuck in front of the computer and I almost work until I fall asleep in front of it.
05.02.10 Finally my homepage is ready and I´ve also finished the recording of "The strangest feeling". It has been mixed and mastered by Jimmy, who has been very helpful. It has been fun and exciting recordning this song and it will be very interesting to hear what you think about it. So please tell me by leaving a message in my guestbook. :-)
05.01.15 I´ve been listening a lot to my Travisrecords. I never get tired of them, they´re so amazing. My favourite is "why does it always rain on me" It´s so tragical with such a nice melody. I always like songs that are in the minor key. I guess I couldn´t even write a song with just major chords. I´ve tried but it never works out.
05.01.02 Happy New Year! So what will be the newyearspromise for this year? I´d better make a promise that is not so hard to keep, so I won´t make myself or someone else dissapointed =) So I promise to record a lot of songs, to sing and play a lot and to have fun with my friends. That won´t be so difficult because it´s the things I like most to do. =)
04.12.06 It has been a lot of work with the homepage latley and I hope it´s going to be ready really soon. It´s very fun making homepages but I´m longing to make songs again. I can´t believe it´s soon christmas again. It´s always nice when the family gets together. Almost every year I celebrate christmas at my grandparents house and me and my sister use to sing and play christmassongs all evening.
04.11.29 It´s funny that it´s always easier for me to write songs when I´ve caught a cold. I get a lot of new songideas but I can´t sing them, really frustrating. I recorded the guitars but it sounded terrible when I begun to sing. =) I guess I´ll have to stay inside for some days. It´s very beuatiful outside now because they have a lightproject here in the city with fireworks, a lot of lamps and statues of fire. I wish I could go out, but I´m lucky ´cause I can see a lot of it from my window.
Presentation of the liveband

Jimmy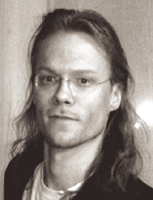 Jimmy plays synth, bass and sings in the band.
He´s a very good musican and has played synth since he was
around seven and he has been writing own songs since he was ten.
You can read more about Jimmy and his musicprojects at www.varion.se.
Jimmy has been working at different radiostations and he has also
been producing a lot of songs for radio advertising.
The recorded Springsound-songs are also mixed and mastered by Jimmy.
Some artists that has inspired him is Michael B Tretow,
Phil Collins, Jean Michael Jarré and Dreamtheatre.
Daina

"Daina plays guitar and sings at liveperformances.
She´s a vary talented person that also is writing own songs.
She is artistic and very insterested in design and textile handicraft.
Christian Kjellvander is the no 1 artist for Daina, but she also likes
Counting Crowes, Audioslave, Red Hot Chili Peppers
and a lot of other artists."

See more pictures of Jimmy and Daina in the gallery